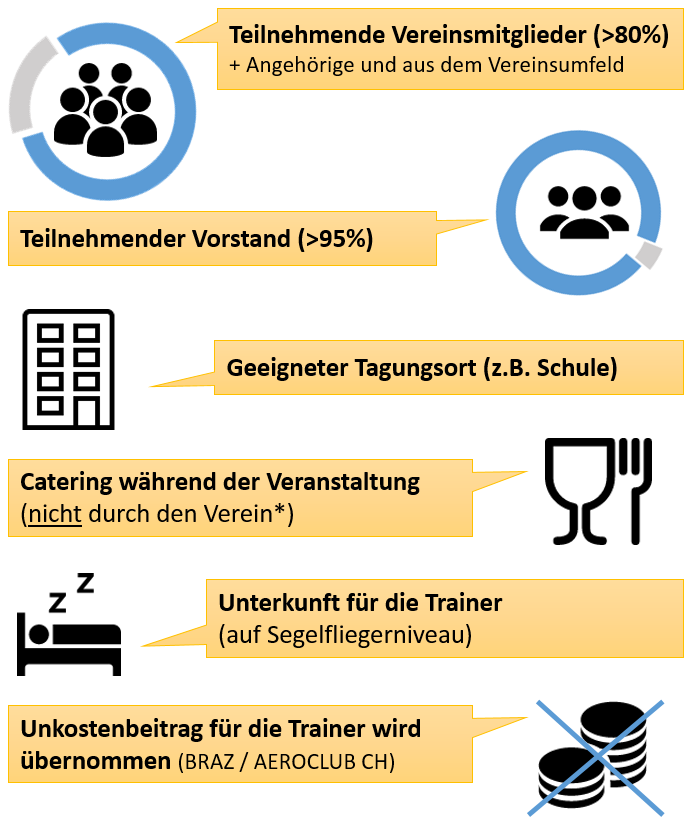 As the FLYTOP Club Course deeply interferes with communication and structures within the club, in order to achieve its goal, it is necessary to fulfil certain requirements.
Firstly, the complete management team as well as a majority of the active club members (> 80%) must take part; participation of as many closely related individuals (spouses, parents, non-flying club members, etc.) as possible is desirable. This applies to the complete course, i.e. both days!
Furthermore, suitable conference facilities (~ 10 rooms for group work) are required, like a conference hotel or a school. In order to be focused on the course, the catering must not be provided by members or dependants of the club, but externally. Additionally, the trainers require an accomodation (according to gilder pilots' standards).
This all might not be an easy task for a club. But all participants and the club will profit from the course—not only in terms fo flying.
Good news for clubs from Switzerland: The Bundesamt für Zivilluftfahrt and the Schweizer Aeroclub pay the cost of the trainiers; therefore, the financial effort for an individual club is very limited.